10 Advantages of Staying in a Luxury Villa
There are many options when it comes to urban living. For instance, when you compare apartments, flats, residential homes, or villas, among them, the most favored for niche living experience are villas. Living in a Villa provides an unbeatable premium experience. Dwelling in a Villa is the ultimate dream for many people. Living in a Villa is no less than having a vacation. Many people dream of living in a Villa for the luxury it provides. Private villas have changed the definition of luxury and comfort. Villas are an icon of status, sophistication, luxury, and exclusive lifestyle. A home resonates with one's personality, and many of them choose a home that matches best with their lifestyle. For the amount of added advantages and facilities a villa provides, it is always considered worth investing in a Villa. Villas in Bangalore city are known for the comfort and luxury they provide.
Here are some of the advantages of staying in a Villa: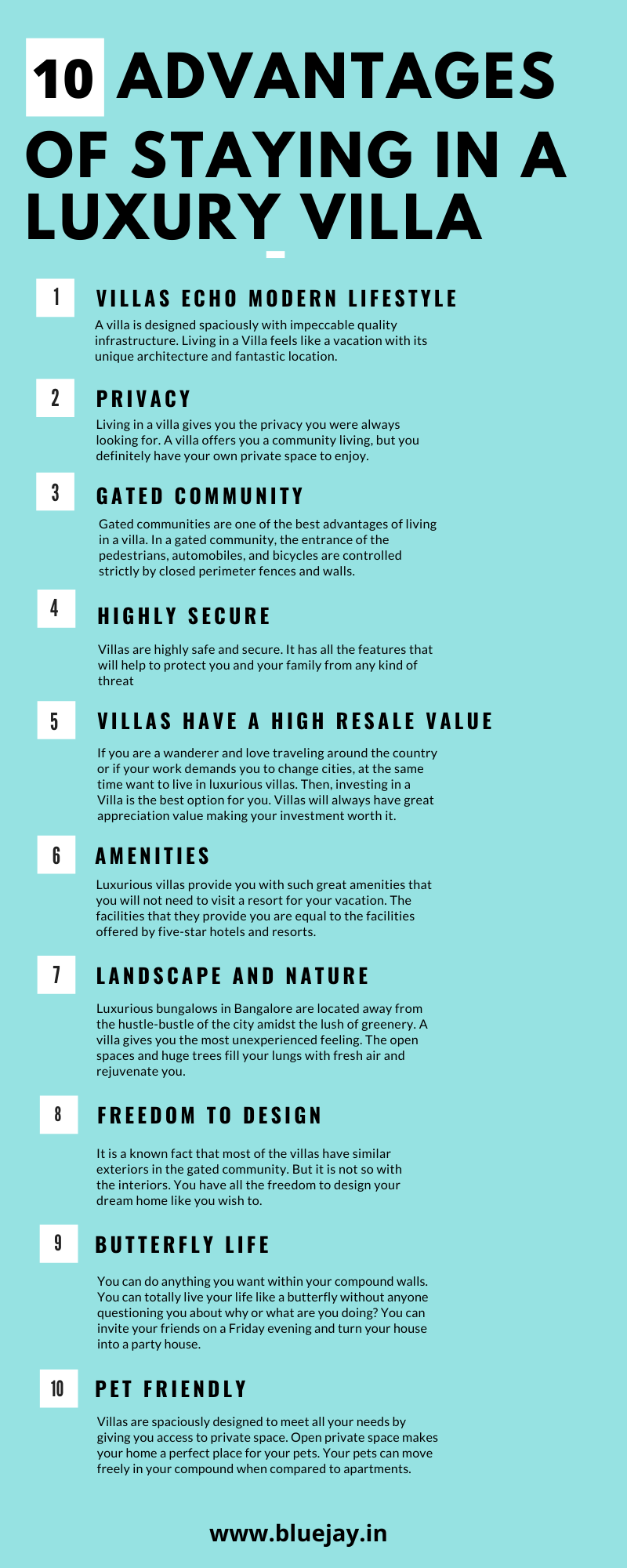 Villas echo modern lifestyle:
A home redefines your personality. For most of them, a home is not just a place it is an emotion. This generation is inclined towards having a modern lifestyle that meets their comfort and needs. A villa is designed spaciously with impeccable quality infrastructure. Living in a Villa feels like a vacation with its unique architecture and fantastic location. Imagine waking up to the sight of lush greenery or spending your evening amidst the sound of chirping birds. It gives you a feeling of heaven on earth. There are many such villas in electronic city Bangalore that give you a wholesome experience.
Privacy:
Villas have great privacy. Haven't we all been in a place where neighbors are the constant trouble? No one likes a nosy neighbor who frequently knocks at the door or the one who has prying eyes, checking for who enters and leaves. Sound annoying right? Surely it does. But living in a villa gives you the privacy you were always looking for. A villa offers you a community living, but you definitely have your own private space to enjoy. You have your own terrace and a backyard; you will not have to share it with anyone. There is no one to intrude on your private space. Spending time with your friends and family becomes more enjoyable.
Gated community:
Gated communities are one of the best advantages of living in a villa. In a gated community, the entrance of the pedestrians, automobiles, and bicycles are controlled strictly by closed perimeter fences and walls. Villas have enormous amenities, huge gardens, and common areas. All this is protected through well-secured gates and fences. People who live in these gated communities feel secured at any time of the day. Luxury villas in electronic city
Highly secure:
Villas are highly safe and secure. It has all the features that will help to protect you and your family from any kind of threat. There are 24/7 guards in a villa along with CCTV surveillance, alarm sensors like glass break sensors and gas leak sensors. They also provide features like Video door phone (VDP) in which you will get to know who is at the door, Control Digital Door Lock through VDP, Security phone that helps you know who the visitor is at the entrance and allow them inside the tower, two-way audio and one-way video. Sounds great right? Foreseeing danger and taking precautions is always better. Villas are well planned and ensure great security. Living in a Villa gives you assured peace of mind and assurance that your family is safe. Bluejay Aster villas in Electronic city is one example for villas that provide tight security.
Amenities:
Luxurious villas provide you with such great amenities that you will not need to visit a resort for your vacation. The facilities that they provide you are equal to the facilities offered by five-star hotels and resorts. The infinity warm swimming pools are a remarkable feature of modern villas. Gym, fitness rooms, private spa, sauna, clubhouse, children's park, senior citizen walking area, and many other such amazing amenities that add value to your life. These amenities help you relieve stress and release your pent-up emotions. Coming back to a luxurious home that has such amazing amenities is truly a blessing.
Villas have a high resale value:
If you are a wanderer and love traveling around the country or if your work demands you to change cities, at the same time want to live in luxurious villas. Then, investing in a Villa is the best option for you. Villas will always have great appreciation value making your investment worth it. Currently, villas are easy to sell in the real estate market because most of the people seek for comfort and luxury. Villas are definitely located in the top-notch areas of the city making the resale value high. It goes without saying, location, and the infrastructure surrounding the property, and many other such factors define the value of the property. Villas have advantages like great road connectivity and infrastructure, making them highly coveted properties.
Landscape and Nature:
Luxurious bungalows in Bangalore are located away from the hustle-bustle of the city amidst the lush of greenery. A villa gives you the most unexperienced feeling. The open spaces and huge trees fill your lungs with fresh air and rejuvenate you. The view from your balcony or terrace is beautiful. When you live in an apartment or flats, all you get to see are the walls of your neighbors. But living in a Villa is not like that, watch the splendid open skies during the sunrise and sunsets. Get closer to nature by living in a villa; it is a perfect escape to tranquility. Read, meditate, and relax in the fresh air.
Freedom to design:
It is a known fact that most of the villas have similar exteriors in the gated community. But it is not so with the interiors. You have all the freedom to design your dream home like you wish to. You have full flexibility to design your backyard. You can choose to convert it into a relaxing area or make a kitchen garden. You can add more elements to your house to make it look modern and luxurious. To sum it in a nutshell, villas give you the liberty to design your home the way you want without any kind of restriction.
Go eco-friendly:
You can go eco-friendly when you live in a Villa. Every person is understanding the importance of having an eco-friendly home. When you own a villa, you can invest in rainwater harvesting and choose solar energy and opt for solar geysers, etc. It will help you save a lot and it is a great opportunity for you to use natural resources to the maximum. By choosing to live in an eco-friendly Villa you are just not taking care of your pocket but also fulfilling your responsibility towards the environment. So you are joining hands in the initiative of making the earth cleaner and greener.
Butterfly Life:
When it comes to living in an apartment, there are many restrictions due to the number of people living closely. You can not do something you really want because your neighbor might not like it. There are many restrictions when we talk about apartments. But whereas luxury bungalows in Bangalore have no such restrictions at all. You can do anything you want without the approval or sanctions from the committee members or your neighbors. You can do anything you want within your compound walls. You can totally live your life like a butterfly without anyone questioning you about why or what are you doing? You can invite your friends on a Friday evening and turn your house into a party house.
Pet friendly:
Villas are spaciously designed to meet all your needs by giving you access to private space. Open private space makes your home a perfect place for your pets. Your pets can move freely in your compound when compared to apartments. There are no stricter guidelines that make it a liberal environment for your pets. Your pets can enjoy in your backyard or your garden.
Villas in Bangalore city are known for the comfort and luxury they provide. If you are looking for villas in electronic city Bangalore, then Bluejay, the finest real estate company is the best choice. Bluejay Aster Villas is one of the best luxury villas in Electronic city. We provide BDA approved villas and are located in the perfect place closer to educational institutions, hospitals, IT hubs, and entertainment hubs. There is a lot of competition for luxury bungalows in Bangalore but, we have cut all the competition by having our villa located strategically with great amenities and security. These villas are cradled in the green lush making it a serene and beautiful place to live in.
Finding perfect bungalows in Bangalore is a tedious task. Research about the real estate market thoroughly and filter the best options that meet all your needs. With the above tips, you understand how living in a villa gives you an unbeatable experience. Are you still wondering how you should invest in real estate during COVID19?

Attention
This website is best viewed in portrait mode.