Why Bangalore is the Best Place to Invest in Residential Luxury Villas?
Bangalore being a metropolitan city, has always been a go-to place. This city is a perfect metaphor for a magnet as it attracts people because of all the facilities it provides. And why wouldn't people be attracted? This city has been a giver and encompassed in the beauty of nature. Most people prefer moving to Bangalore because of the green lush and frothing job market. Be it IT sectors or startups, Bangalore has always been a dream destination for many of them. In the past few years, there is a boom to startup companies, and Bangalore has become a paradise to entrepreneurs. People come here looking for their dream home and aspire to fulfill their wishes.
This developed city is called a villa city. Villas have become a new definition of comfort. After living in apartments for decades, people have realized it is too stuffy in there. A need for luxurious and comfortable living is increasing, and thus Villa properties are in high demand, and Villas in Bangalore are gaining significance in the current real estate market. Investing in villa properties in Bangalore will be a smart investment as it will help you fetch higher returns in the coming years. Living in a Bungalow in Bangalore is equally trending in the market due to the remarkable luxury it provides.
Some myths about Villas are they are pricy and are not affordable to many. But honestly, villas are value for money. They come with the best amenities and features. People believe most of the Villas are located on the outskirts of Bangalore, making it difficult to commute to work daily. But these days, you can find villa properties located in the city with all the convenience at a stone's throw away. Villas not only make a magnificent home, but they are also great for investments. Many buyers recognize the value of villa properties and consider villas to be a great asset for them. You can invest in a villa and give it to rent it. Renting a villa is a reliable source of income. Not just this, the resale value of a Villa is always higher. You can sell your Villa when the land prices shoot up and get higher returns. Many buyers see a villa as a weekend home and a perfect getaway place. A villa gives you a resort-like experience and provides you with the best amenities. A home away from the hustle-bustle of the city that gives you a break from the monotonous lifestyle.
Villas in Bangalore are located conveniently with perfect infrastructure and designs. They define spacious and comfortable living, perfectly resonating with your lifestyle. Villas in Bangalore are amidst IT hubs, best educational institutions, medical centers, and entertainment hubs. Investing in a villa or a bungalow in Bangalore will help you source higher rental income along with a package of luxurious amenities. Villas in Electronic City Bangalore, Sarjapura Road, Kanakapura, Hoodi circle near Hoskote, Off Tumkur Road, and Off Mysore Road are the best areas in South Bangalore to invest.Read on to find out some of the reasons to invest in residential villas in south Bangalore.
Here are the top reasons to buy luxury villas in South Bangalore: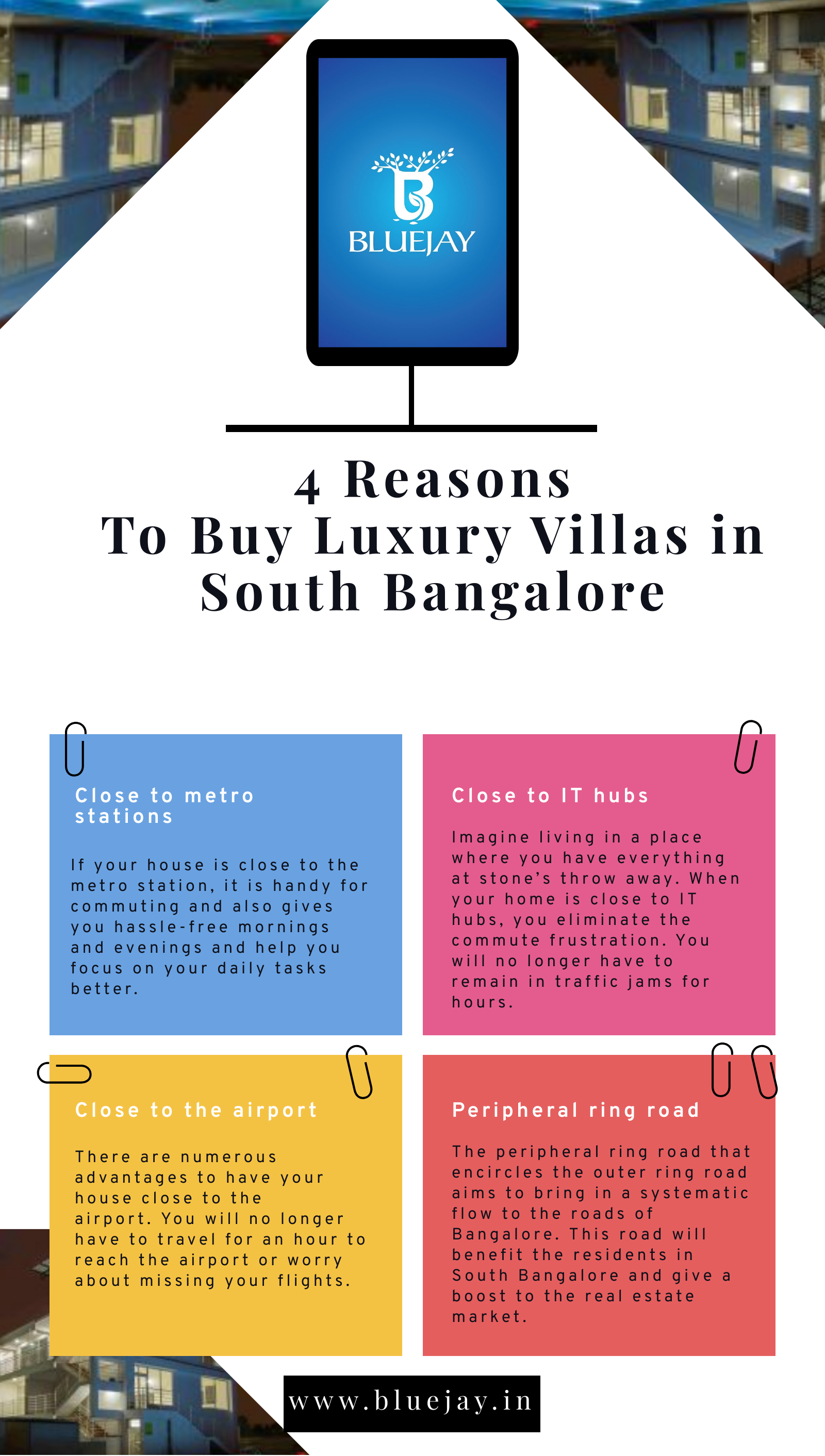 1) Close to metro stations:
Due to the rapid development in the city, comfortable homes, and job opportunities, many people have shifted to Bangalore; this has led to an increase in the vehicle population resulting in unavoidable traffic jams. Reaching office in the morning and returning home is challenging. It is a tedious task to reach your workplace on time despite leaving your home early and planning your day the previous night. Not just this, even when you have to visit a shopping mall to rejuvenate yourself on a Sunday evening, you waste so much time in traffic. There is always a compulsion to plan out every detail of your day earlier itself. If your house is close to the metro station, it is handy for commuting and also gives you hassle-free mornings and evenings and help you focus on your daily tasks better. Having your home closer to a metro station will help you save a lot of traveling time and brings in a lot of comforts and ease your life.
2) Close to IT hubs:
Imagine living in a place where you have everything at stone's throw away. When your home is close to IT hubs, you eliminate the commute frustration. You will no longer have to remain in traffic jams for hours. Spending quality time with your family will become your routine and productivity as an individual also increases. The time spent on traveling can be utilized to improve your skills. You can revive your long-lost hobbies and also develop some new ones. Not just this, it is pocket friendly too. You can save money on everyday transportation and use it for something more valuable.
3) Close to the airport:
There are numerous advantages to have your house close to the airport; this goes without saying, areas near the airport have excellent infrastructure and are well-developed with great connectivity. They are bound to have a great infrastructure with excellent roads, schools, hospitals, shopping malls, IT hubs, multinational companies, and many other facilities. Investing in areas near the airport promises greater returns as it is an attraction for major commercial and retail sectors. The upcoming airport at Hosur road is going to make life easier for residents in South Bangalore. You will no longer have to travel for an hour to reach the airport or worry about missing your flights.
4) Peripheral ring road
The peripheral ring road that encircles the outer ring road aims to bring in a systematic flow to the roads of Bangalore. With these upcoming developments, there is a scope of having shopping malls, hospitals, and educational institutions in this area. The peripheral ring road will benefit the residents in South Bangalore and give a boost to the real estate market. Luxury villas in Bangalore will be bought to the limelight in South Bangalore. The real estate market will prosper in these areas.
The real estate market is flourishing with Bungalows and luxury villas in Bangalore. Owning a bungalow in Bangalore means owning a spacious living. With the changes and developments happening, it is a wise decision to invest in a villa in South Bangalore. There are many villas for sale in Bangalore, and they can be financially rewarding. Bluejay is one of the well-recognized companies in the real estate market. It offers the best project like Bluejay Aster villas, located in Electronic city Bangalore. It is located strategically in the perfect area, where the infrastructure is booming with multinational companies, IT companies, schools, colleges, hospitals, and entertainment centers. Living your life in proximity to the bustling commercial zone can make your life a hundred times easier.
There is potential growth in South Bangalore. The upcoming metro station provides excellent connectivity and eliminates all commuting obstacles. Not to forget, the upcoming peripheral ring road encircling the outer ring road is a cherry on the cake. You will get to taste a good life with the best infrastructure in South Bangalore. It gives a boost to your lifestyle and improves the overall standard of living. Bluejay is encompassed with the top-notch amenities that will help you rejuvenate and help you have a stress-free living. They provide amenities like a swimming pool, a spacious gym, parks, clubhouse, table tennis, and many other premium facilities. These Villas have functional layout plans to meet all your needs. They have CCTV surveillance, round the clock security, concealed powered lines, internal avenue lined roads, streetlights, and underground sewage system. Each Villa is built keeping in mind all the minor details. Bluejay is here to fulfill all your dreams and encapsulates happiness for you.
Are you still curious to know more? Look into Seven reasons why you should buy a villa plot in Bangalore?

Attention
This website is best viewed in portrait mode.